Search Tampa Zip codes for a Home or Condo
Know where you want to focus? Whether it is because you want your child to attend school in a particular zip code or this is the area where you work or this is where your friends and family life — we've made the home search quite easy for you. Just click the links below! We've also highlighted in red the popular zips based on customer feedback. Let us know how we can help you find the perfect home or condo! Don't get overwhelmed. We have a team of realtors and lenders that can help you through this process. Tampa Bay is large and we have relevant experience in all of the locations below.
Want to target your search just to single-family homes or just condos? No problem, just click on the REFINE RESULTS, and then at the bottom of the Search Criteria panel on the left go to the bottom and click on the Advanced Search Form.
We've made it very easy for you to pinpoint a specific Tampa zip code you can either scroll down until your find the Tampa zip code you are looking for or if you want to jump to a certain Tampa area county to start your home search click on that county below than find the Tampa zip code you are looking for. Hope you like our easy-to-navigate website. Any questions feel free to reach out.
Talk to our knowledgeable agents today, we can help! You can reach us by phone, email, or chat. 
CHOOSE A COUNTY OR SCROLL DOWN
Pinellas County Condos and Homes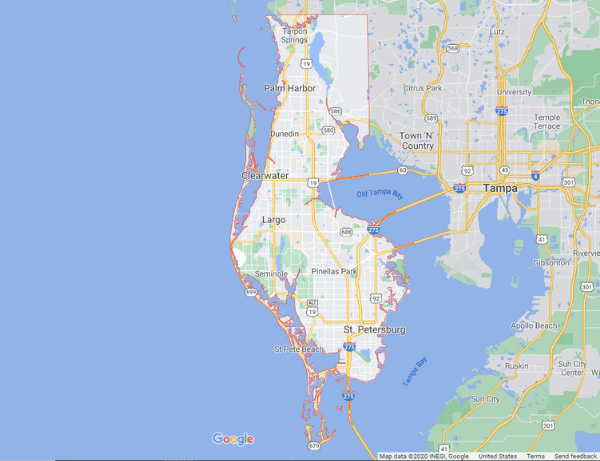 Pinellas County is located west of Tampa Florida. If you are looking for Clearwater Beachfront condos or homes or if you're looking for Clearwater Waterfront Condos or homes in Clearwater Florida this is where you will want to look. Pinellas County Florida covers from Clearwater Beach all the way down to St. Petes Beach Florida back over to Tampa Florida and everything in between.
Belleair
This exclusive town in Pinellas County is home to roughly 4000 individuals and began as a resort town with the construction of the Bellevue hotel as well as multiple condominiums, exclusive homes, and strict zoning laws to protect homeowners.
Belleair Beach
Belleair Beach is located in Pinellas County and home to about 1600 residents offering high-end condominiums, luxury waterfront estates, and direct access to the ocean.
Belleair Bluffs
Belleair Bluffs is a small town of just under one half of a square mile and is completely built out with about 2200 residents. It offers a wide range of living options, shopping, and a few cafés and its neighboring communities are one of the Gateways to the Goals of Mexico Beaches.
Belleair Shores
Home to just over 100 residents, this small coastal town offers very few amenities but instead is a short strip of beachfront condominiums just south of Belleair Beach.
Clearwater Beach
Known for its beautiful stretch of white sandy beaches, Clearwater Beach offers a selection of condominiums, waterfront homes, and some of the most beautiful crystal clear water anywhere in the Gulf of Mexico. Clearwater Beach is also home to Sand Key, Island Estates, and Clearwater Beach proper.
Clearwater
33755 I 33756 I 33759 I 33760 I 33761 I 33762 I 33763 I 33764 I 33765
This is the largest city in Pinellas County and home to over 110,000 residents. It's the county seat and the smallest of the three main cities in the Tampa Bay area including St. Petersburg and Tampa Florida. It offers a variety of homes, condominiums, townhouses, multiple shops, residents, and a plethora of amenities for all residents, guests, and visitors.
Crystal Beach
Crystal Beach is a small unincorporated community in Palm Harbor and home to less than 200 residents. There are a few single-family homes as well as beachfront condominiums.
Dunedin
This quaint, village-style coastal town is close to Honeymoon Island State Park and known for great festivals, restaurants, and shops as well as several waterfront properties and condominiums.
Gulfport
Known for its natural coastal beauty, Gulfport is located on the Boca Ciega Bay in the southern part of the county adjacent to St. Petersburg. It's home to one of the area's most luxurious waterfront gated communities of Pasadena Point Estates.
Indian Rocks Beach
With a collection of beachfront and waterfront condominiums and estates, Indian Rocks Beach is less crowded than Clearwater Beach and more spread out offering beautiful views of the Gulf of Mexico.
Kenneth City
Kenneth city is home to roughly 5000 residents and is a small town in the southern part of Pinellas County between St. Petersburg and Pinellas Park.
Largo
33770 I 33771 I 33773 I 33774 I 33777 I 33778
As the third-largest city in Pinellas County, Largo Florida covers six ZIP Codes and is home to about 77,000 residents. It was the first municipality in the county to adopt a council-manager government and today boasts several luxury estates and condominiums even though it began as a rural farming community in the early 1900s.
Madeira Beach
Just past John's Pass, Madeira Beach features condominiums and waterfront homes with beautiful views and access to John's Pass, a beautiful village and a boardwalk area with shopping, fishing, dining, and entertainment.
Oldsmar
This quaint Pinellas County village is home to about 14,000 residents and features several parks along Tampa Bay with historic bungalows, a commercial area on W. Hillsborough Ave., and historical society as well as many condominiums and single-family homes.
Ozona
This small community on the west-central coast of Florida is home to less than 800 residents located on the northern end of Pinellas County west of alternate 19. It offers multimillion-dollar mansions, humble beach cottages, and a few condominiums.
Palm Harbor
Palm Harbor is quite a large community with a population of over 60,000 even though it's still an unincorporated community in the county. It's 22 miles north of downtown St. Petersburg and west of Tampa and is largely a residential community with a few concentrations of amenities and services.
Pass a Grille Beach
This is a wide stretch of white sandy beaches along the Gulf Coast at the southernmost end of St. Petersburg Beach. This laid-back beach town is perfect for walking the beach, enjoying ice cream, browsing the shops, enjoying the outdoor art market, restaurants, rooftop bars and fishing piers.
Pinellas Park
Centrally located, Pinellas Park is home to nearly 50,000 residents and is now the fourth largest city in the county and the most densely populated with a collection of residential properties, neighborhoods, and waterfront condominiums.
Redington Beach
Redington Beach is just north of Madeira Beach and John's Pass and includes north Redington Beach and Redington Shores. It's home to Tides Beach Club as well as other beachfront condominiums.
Safety Harbor
Home to the extremely popular Safety Harbor Spa, this community houses roughly 17,000 residents and is home to several attractions, entertainment, neighborhoods, and of course, the famous spa.
Seminole
Touted as one of the best places to live in the state, Seminole Florida is home to about 18,000 residents with a median home price of just $240,000. It offers a strong economy, beautiful weather, and an attractive downtown shopping center.
South Pasadena
This waterfront community on the northern point of Boca Ciega Bay is home to two popular waterfront communities, the 55 and over Bay Island and Harbourside.
St Pete Beach
Nestled on the southernmost tip of the Pinellas Gulf Coast speech, St. Pete Beach offers a selection of local restaurants, shops, parks, estates, and waterfront condominiums.
St. Petersburg Downtown
Downtown St. Petersburg offers several entertainment options, services, and amenities as well as downtown St. Petersburg condominiums, museums, theaters, and multiple residential neighborhoods. There's typically a price point for everyone in downtown St. Petersburg.
St. Petersburg
33702 I 33703 I 33704 I 33705 I 33707 I 33710 I 33712 I 33713 I 33715
Covering nine ZIP Codes, St. Petersburg is the fifth most populated city in Florida and the largest in the state that's not the county seat. It's home to nearly 300,000 residents and offers a wide range of home choices from waterfront condominiums, Marina view townhouses and estates, waterfront mansions and single-family homes. You'll find something for everyone in the St. Petersburg Florida real estate markets. Plus, with an average of nearly 360 days of sunshine each year, St. Petersburg is not only known for its affordability but it's sunshine.
Tarpon Springs
As one of the most northern communities in the county, this waterside neighborhood offers several dining options, waterfront properties with docs and access to the Gulf of Mexico, and if you beachfront estates.
Tierra Verde
With easy access to Shell Key and Fort De Soto Park, Tierra Verde is the southernmost of all the communities in Pinellas County. It's home to just under 4000 residents and is located on an island near the entrance of Tampa Bay connected by the bridges of Pinellas by way to St. Petersburg and St. Pete Beach.
Treasure Island
Being many things to many people, Treasure Island is a vacation destination for some, a fantastic entertainment hotspot, and of course, a home to thousands of people from all walks of life. It provides easy access to the beach or the bay and fantastic shopping and dining downtown.
Hillsborough County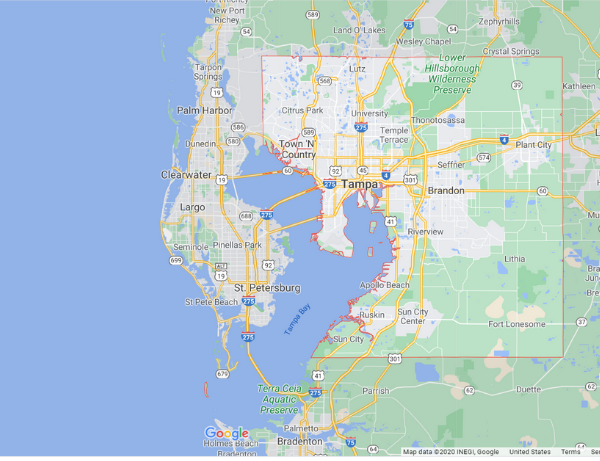 Hillsborough County is located east of Clearwater Florida. Known as the center of the Tampa Bay area, Hillsborough County is home to Tampa Florida, Brandon, City, and Multiple Cities, Towns, and Unincorporated Communities.
Apollo Beach
Nestled on the coast of Tampa Bay, Apollo Beach is a master-planned community featuring several waterfront properties and estates.
Brandon
Brandon Florida is a large community in the county and home to over 105,000 residents part of the Tampa, St. Petersburg, and Clearwater Metro area. Development boomed in the 1980s with more shops, restaurants, markets, condominiums, and waterfront estates.
Gibsonton
This small Tampa Bay community is home to just under 9000 residents and has been known as one of the strangest towns in America. Why you ak? Take a trip to Gibsonton for the afternoon and explore some of the unique shops, restaurants, and unique neighborhoods.
Lithia
Part of the census-designated place of Fish Hawk, this small community is a suburb of Tampa technically covering it to ZIP Codes, although 33547 is the most common. It's home to the nearly 3000-acre Alafia River Corridor and the Chito Branch Reserve beautiful places to visit any weekend of the year.
Lutz
Lutz Florida is a growing area on the border of Hillsborough and Pasco County and home to several newer subdivisions and new construction homes.
Odessa
Odessa is definitely a place to be if you're looking for rural design, home to Starkey Ranch one of the newest master-planned communities in the area, wide-open spaces, and beautiful lakefront property.
Plant City
Plant City is located in the middle of the West Coast of Florida just 25 miles east of Tampa and about 70 miles west of Orlando just west of Lakeland. It's home to just under 40,000 residents and has a plan for expected growth over the next 10 to 20 years. This small town charm is quickly expanding.
Riverview
Although it covers three ZIP Codes, Riverview is just an unincorporated community within the county south of Brandon. But, it is home to nearly 75,000 residents as well as numerous master-planned communities, micro-neighborhoods, and condominium complexes.
Ruskin
Ruskin Florida is home to commerce and housing developments and US Route 41 is now a four-lane road connecting Ruskin to Tampa making it an ideal spot for commuters that work in downtown yet want a smaller community within the county.
Seffner
Rated as one of the best suburbs in Tampa to buy a house, Seffner Florida is home to just under 9000 residents offering a rural feel, many homeowners, and young professionals. This area has above average public schools.
Sun City Center
America's premier 55+ community, Sun City Center offers residents the finest of amenities making it one of the most desirable communities in the county with shopping centers, medical facilities, churches, and multiple residential options.
Sydney
Sydney is a small community just east and northeast of Brandon offering a small selection of restaurants, hotels, and condominiums.
Tampa Neighborhoods
Thonotosassa
This community of about 14,000 residents offers excellent public schools, multiple parks and wilderness options, several hotels, restaurants, and residential communities.
Valrico
This larger community of over 36,000 residents offers affordable homes starting at less than $200,000. With excellent schools, a vibrant nightlife, and a great place for families and diversity, Valrico Florida makes an excellent place to call home.
Wimauma
A community of around 7000 residents, Wimauma is close to the beach, offers a quiet downtown area, and a short drive to downtown Tampa. Been rated as one of the best places to live in the county.
Pasco County
Welcome to Pasco County. Just north of Hillsborough County and south of Hernando County, Pasco offers residents Gulf shore homes, waterfront cities, and stretches inland to the Green Swamp Wilderness Preserve.
Dade City
Home to 2 ZIP Codes, this is the county seat and home to just over 7000 residents. It's known for its unique antique stores, popular restaurants, and historical architecture.
Holiday
Holiday has been rated as one of the best places to live in Pasco County and home to about 22,000 residents. It provides a sparse suburban atmosphere where most residents own their own homes.
Hudson
The beautiful little westernmost community of Hudson Florida is home to just over 12,000 residents and provides an average home price of about $166,000.
Land O Lakes
Land O Lakes is one of the larger cities in Pasco County with a population of around 35,000. It's known for his fabulous wineries, breweries, sports options, entertainment, and fantastic homes and real estate.
Lutz
Lutz Florida shares its demographic with both Hillsborough and Pasco counties. It has a small portion in Pasco County north of State Road 54 and the majority is in Hillsborough County. It offers a country life with modern conveniences, shops, lakes, and golf courses.
New Port Richey
This smaller suburban city nestled on the Gulf of Mexico just 35 miles northwest of Tampa blends beautiful riverfront landscape with fantastic shopping, dining, culture, and businesses.
Odessa
Another city in both Hillsborough and Pasco County, Odessa is home to roughly 4000 residents featuring ranch space, equestrian properties, and open acreage.
Port Richey
This Pascoe County city is home to just under 3000 residents with the median home price of just $113,000. You'll find several single-family homes and a few residential neighborhoods.
San Antonio
No, you have not crossed over into Texas, there is a San Antonio Florida, but it's unofficially called San Ann, a suburban city in the Tampa and St. Petersburg metro area home to just over 1500 residents.
Trinity
Trinity is a community of nearly 11,000 residents named after the Trinity College of Florida, a Bible college founded in 1932. It offers a main plaza area, shopping, several micro neighborhoods and residential districts.
Wesley Chapel
Wesley Chapel is a rapidly growing suburb of the Tampa Bay area and home to around 62,000 residents. It offers charming neighborhoods, fantastic restaurants, and multiple activities for folks of all ages.
Zephyrhills
Hard to say but easy to live there, Zephyrhills is home to about 14,000 residents and is a suburb of the Tampa Metro area. It's home to the Zephyrhills bottled water company and a member of Tree City
Hernando County
This is the northernmost of the main counties making up the Tampa Bay Metro area. It offers multiple beachfront options, wildlife areas, and several beautiful communities and beachfront estates.
Hernando Beach
Hernando Beach is a community of just over 2300 residents along the Gulf of Mexico known for its adventure, and exploring Florida's coastal communities. This sunbaked, thriving community is laced with canals were boat owners and water enthusiasts launch from arenas and backyard docks.
Spring Hill
34604 I 34606 I 34607 I 34608 I 34609 I 34610
One of the largest communities in Hernando County, Spring Hill is home to nearly 100,000 residents even though it's only a senses designated place. It's home to Florida's Nature Coast region and offers an excellent school district, the Spring Hill campus of Pascoe Hernando State College, multiple healthcare options, a vibrant tourist economy, and multiple shops, restaurants, markets, and residential neighborhoods.
Weeki Wachee
Home to the Weeki Wachee Springs State Park, this city is one of the least likely "cities" in the county founded with less than 15 residents. Its primary landmark is the preserve and Park, which includes water rides, animal shows, costume shows, and Manatee watching's.
Manatee County
Longboat Key
Anna Maria Island