Sarasota Homes for Sale
Sarasota has a lot to choose from when it comes to Homes. If you need help deciding what area would be best for you feel free to reach out any time morning noon or night.
Welcome to beautiful Sarasota Florida. Here you will find all neighborhoods that have homes for sale in Sarasota Fl.
Below you are going to find all the Homes for Sale in Sarasota FL. Here are some Florida waterfront homes for sale in Sarasota Fl Here are all the Florida waterfront homes for sale.
And, if you haven't already, be sure to register for a free account so that you can receive email alerts whenever new Sarasota Homes come on the market.
Sarasota Homes
September 22, 2023
More About Sarasota Florida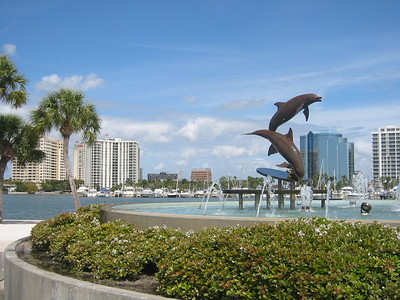 Sarasota Florida is the county seat of Sarasota County just south of Tampa Bay. This beautiful city nestled on the shores of the Gulf of Mexico is home to about 60,000 residents. A primary gulf coast city, visitors and residents alike enjoy an eclectic blend of culture, arts, dining, and shopping. One of the major attractions is the John and Mable Ringling Museum of Art playing tribute to Ringling's Brothers Circus. But that's just one of the hundreds of arts and cultural activities and places to explore throughout Sarasota.
Sarasota sits along the shores of Sarasota Bay and includes many barrier islands such as St. Armands, Lido Key, Bird Key, and Bay Island. South Sarasota, Sarasota Beach, Long Boat Key, Kensington Park, and Sarasota Springs also around the city of Sarasota, yet are all part of the Sarasota Metro area.
With warm year-round temperatures, award-winning beaches, and festive things to do, Sarasota is a go-to place for families, professionals, a handful of celebrities, and retirees. Just an hour south of Tampa and two hours from Orlando, Sarasota makes an excellent place to call home. Many folks call it a mix between paradise and a little hint of reality.
Sarasota offers a sizable job market for those with small businesses, tourism, and in healthcare industries. It's been ranked as the #1 Best Pl. to retire in the state, #2 Best Pl. to live in Florida, #4 is the fastest growing place, and receives top marks for desirability, value, quality of life, and net migration. The unemployment rate is lower than the national average and just 3.1% with a median home value of about $230,000 and a median rent of about $1100. His average temperatures range from 64° to 81°, and we get a good dose of rain occasionally keeping things green, fresh, and bright.
For those that love the outdoors, Sarasota is it. There are a number of parks as well as the massive Myakka River State Park, located 9 miles east of Interstate 75 consisting of over 37,000 acres making it the state's largest park. Discover wildflower-covered prairies, wetlands, and gorgeous pinelands with the majestic Myakka River flowing through 58 mi.² of this massive park.
The Sarasota Chalk Festival [pictured below] is a unique event each year along Base Ave. Check out the festival and visit the 3-D Illusion Museum for some trippy art!
Residents also have access to dozens of golf courses and of course, there's the beach. Siesta Beach has earned a claim for its sugary sandy beaches and beautifully clear water. Lido Beach is a popular spot for locals and tourists with a wide stretch of shoreline that easy to access.
"I love living in Sarasota, Florida, because of all the fun family stuff to do and see. The beaches are only 15 minutes away. There are plenty of dog parks and kids parks to go to and enjoy."

"Sarasota, Florida is a unique beach town with a whole lot to offer. It is home to the country's previously #1 beach and the #1 high school in the state. There are many family-friendly areas including state parks, playgrounds, aquariums, and many outdoor spaces to enjoy the sunshine state's notable weather." - Niche.com
Sarasota Schools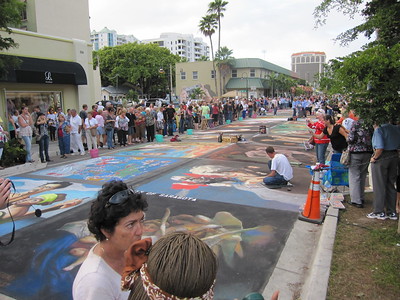 Sarasota is part of the Sarasota County school district, which is a fairly new district founded in 2002. Sarasota has one of the highest concentrations of top-ranking public schools in the state of Florida. It offers classes for 43,000 students and employs over 5000 residents. It's been considered an A District since 2002. It has 46 elementary schools, 14 middle schools, 12 high schools, and a variety of charter schools, alternative education, virtual schools, combination schools, and the Suncoast Technical College. It's also home to New College of Florida, a public liberal arts college in honors college for the State University System of Florida. Other branches include Keiser University, Ringling College of Art and Design, Florida State University College of Medicine, and the East West College of Natural Medicine.
Sarasota Homes for Sale
You'll find hundreds of properties for sale throughout Sarasota. From single-family homes and condominiums starting under $200,000 to expansive mansions, waterfront estates, and private resorts over $15 million. If you're looking to live by the ocean, Sarasota makes a great place to call home. There are so many options from beachfront condominiums and waterfront estates to villas and mansions, single-family homes and townhouses. Start your online search here for all Sarasota condominiums but for Sarasota homes and single-family properties, browse this page or simply contact my office at any time.
Contact a Sarasota Realtor®