Florida Waterfront Homes for Sale
Welcome to all the beautiful Florida Waterfront Homes for Sale. Here you will find all condominiums and complexes that have units for sale on the Gulf of Mexico from Clearwater Beach Florida Down to Siesta Keys Florida. There are so many Homes to choose from that I am sure we will be able to find your piece of paradise. There are over 100 miles of beaches between Clearwater Beach Florida and Siesta Key Florida. If you are having a hard time deciding where you should call home along these white sandy beaches just reach out tell us what kind of lifestyle you are looking for and we will tell you what areas might interest you.
And, if you haven't already, be sure to register for a free account so that you can receive email alerts whenever new Florida Waterfront Homes come on the market.
Florida Waterfront Homes
September 29, 2023
$1,021.81
Avg. $ / Sq.Ft.
$2,125,000
Med. List Price
More on Florida Waterfront Homes
If you've been looking for the ultimate Florida waterfront home, you've come to the right place. Here you will find all of the local listings in the Tampa Bay area along the western coastline of Florida including the counties of Hillsborough, Pinellas, Pasco, and Hernando County. All of these incorporate the towns of Tampa, St. Petersburg, Sarasota, Sand Key, Clearwater Beach, and Island Estates Clearwater as well as micro-neighborhoods, barrier island homes, and those on Tampa Bay itself.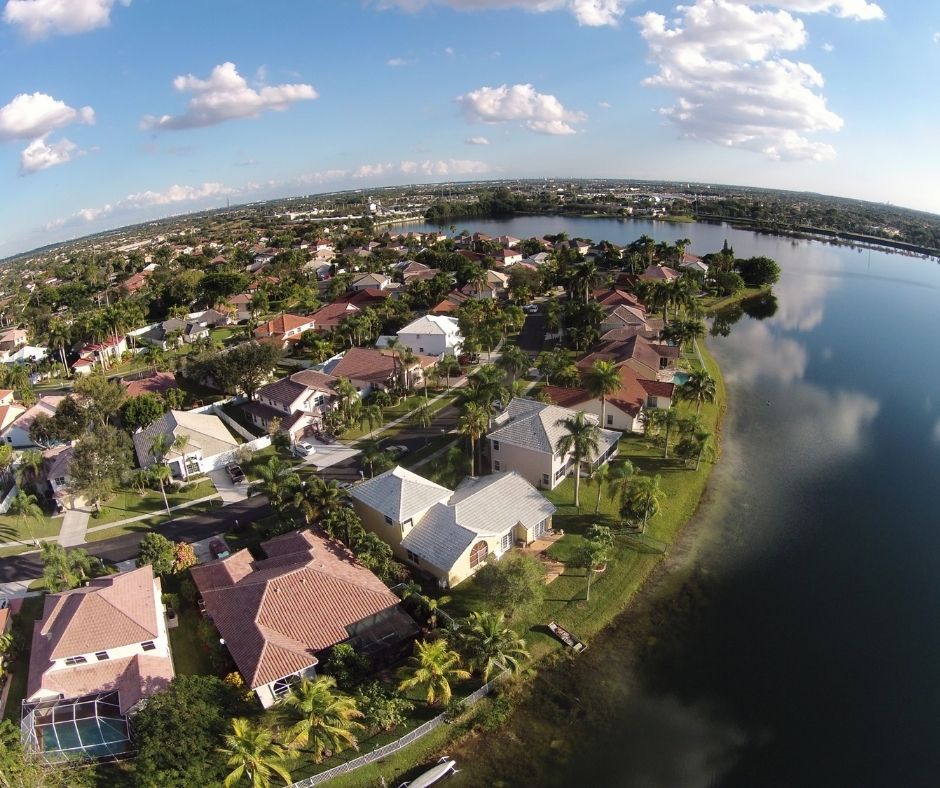 With so many different types of homes to choose from, it's really difficult to narrow down the right waterfront home for you, which is why we've listed them all on this page. You'll find beautiful coastal estates and waterfront mansions on Treasure Island, Madeira Beach, St. Pete Beach, North Redington Beach, Indian Rocks Beach, Indian Shores, Belleair Beach, Clearwater Beach, Sand Key and those along St. Joseph Sound in Palm Harbor, Tarpon Springs and as far south as Ana Maria, Holmes Beach, and Memphis.
What to look for in a waterfront home
Buying a waterfront home is slightly different than a typical home although the purchase and sale contract is fairly similar. I want you to be aware of buying a waterfront home in Florida and the pros and cons of this type of real estate.
Beachfront, oceanfront, waterfront?
Does the property actually touch the waterway in question? Many waterfront properties require a survey that actually depicts the proper margin of the waterway and legal analysis to confirm that there are no gaps, hiatuses, easements, or margins between the home and the water. Oceanfront is slightly different than beachfront versus waterfront as Florida has many homes along the waterway, not necessarily the ocean. Even though it's the same water, there are different rules and surveys depending on which water your Florida home is actually touching. From lagoons and bays to oceanfront and waterways, it's important to understand the difference between the different types of waterfront homes.
Boat access.
Many homes on Florida's waterway will feature a dog or at least a boat slip so that you are allowed to keep your boat at your house and have access to the ocean. However, many oceanfront homes or beachfront homes do not have any type of dock so if you're looking to have a boat, you might look on the waterway side versus the ccean side. Many of these homes sit right on the water allowing boat access throughout the bay, along the waterway, and out into the ocean. If you don't have a boat, beachfront or oceanfront might be what you're looking for. This does narrow down the search quite substantially as there are plenty of homes on the beach versus the waterway, although they don't offer the same benefits.
Public access.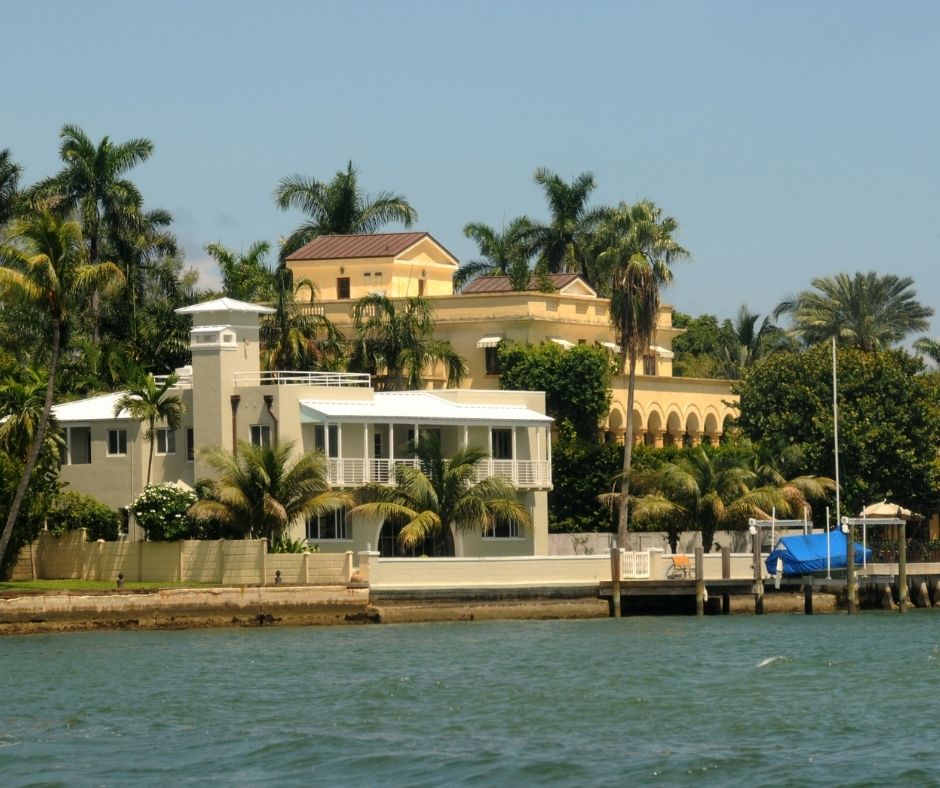 If you're looking at a Florida waterfront home that's on the beach, you may have to deal with public access. You'll need to decide if this is something you're concerned about or not worried about it all. Do you want folks traipsing by your house along the beach every day? Are you looking for private access or simply a little piece of waterfront property where you know no one will be wandering through? Waterway property, bay property, and waterfront homes not on the beach, typically have private access because it's private property all the way to the water.
Seawall.
Are you concerned about a seawall? A seawall is a structure separating land and water areas designed to prevent coastal erosion and other damage due to weather. If you see one, you can assume that they reflect the power of retreating waves which can erode the beach and carry the sand out to the sea. While there's not a lot of seawalls along Florida's coastline, you might find one on occasion so it's important to understand why it's there and if it will affect your homeownership.
Flood zone.
Living close to the water, especially in Florida, flooding can be an issue depending on where you are located. It truly helps to have an agent that understands Florida waterfront homes and the flooding that can occur in different areas. The closer you are to the water and the more level you are with the water, the more chances of flooding in certain areas. There are different zones in Florida that affect flooding in different ways so be sure to ask about flooding when considering a Florida waterfront home.
The ecosystem.
Florida's ecosystem is a delicate balance. Florida's Gulf Coast residents take pride in preserving the natural beauty and ecosystem of the area. We have a lot of mangroves which are an iconic and vital flora of the region as well as many local species of birds, wildlife, and landscaping that can prevent erosion and help maintain water control. It's important to understand who owns the land adjacent to the waters and how you can use your waterfront property effectively and in an environmentally conscious way.
Resale value.
This may or may not be your forever home but the resale value should be somewhere on your list of considerations when choosing a Florida waterfront home. Don't just think immediate future, but 5 to 10 years down the line. Will the property increase in value or is erosion causing the property to lose square footage by the year? This may or may not be an issue but it is something to keep in mind.
Talk to the neighbors.
One of the best ways to find out about a neighborhood or the type of home is to talk to immediate neighbors. Ask how long they have lived there and if there are any issues they have found with their particular waterfront property. Understanding the utilities, responsibilities of a waterfront homeowner, HOA issues, bylaws, and regulations can all make you more informed when purchasing the property.
Docks.
Even if the property conveys a dock, it doesn't mean that it was necessarily permitted that way. You'll need to ask the home inspector if the proper permits and codes were followed when installing a boat dock. You'll want to make sure that it's properly attached to the land as well as legally permitted.
Financing.
Waterfront homes may require additional or specific financing. Check with your lender and make sure they understand that your purchasing a waterfront home. They may want specifics on the boundary line, surveys, and the history of the home as well as the shoreline history and future.
Florida Waterfront Homes
Florida's waterfront homes certainly run the gamut of designs, styles, lot size, condition, acreage, and of course, price. You'll find waterfront homes starting at just $200,000 all the way up to $30 million for luxury mansions and private estates. From Harborview homes to properties in the Bayside subdivision, Sand Bikini and Skimmer Point to beautiful Oakhurst Shores Estates and Pasadena Point Florida has enough waterfront property to go around. Start your online search for all homes and waterfront property in Florida on our website or simply contact my office at any time to schedule a showing.
Using a Florida waterfront real estate specialist is the key to getting all of your questions answered, negotiating for your terms in your price, and enjoying your Florida waterfront home for years to come.
Contact a Florida Waterfront Home Real Estate Agent