Florida Beach Condos for Sale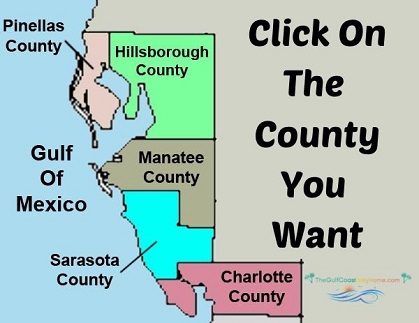 Welcome to all the beautiful Florida Beach Condos for Sale. Here you will find all condominiums and complexes that have units for sale on the Gulf of Mexico from Clearwater Beach Down to Siesta Keys Florida. There are so many condos to choose from that I am sure we will be able to find your piece of paradise. There are over a 100 miles of beaches between Clearwater Beach and Siesta Key Florida. If you are having a hard time deciding where you should call home along these beaches just reach out tell us what kind of lifestyle you are looking for and we will tell you what area you should be looking in.
And, if you haven't already, be sure to register for a free account so that you can receive email alerts whenever new Florida Beach Condos listings come on the market.
Florida Beachfront Condos
September 29, 2023
About Florida Beaches and Condos on the Beach
From Pinellas County South to Charlotte County, the amount of Florida beach condominiums is practically limitless. From older homes and nostalgic buildings to modern-day high-rise structures with amazing views and amenities, there is no end to Florida beach condominiums, complexes, buildings, styles, designs, and prices.
Here you will find a list of all of the Gulf of Mexico Florida beach condominiums from Clearwater Beach to Siesta keys. With over 100 miles of beaches between these two destinations, there is plenty of options for condominiums, townhouses, and high-rise luxury units.
Where to live on Florida beaches.
Determining the right condominium building starts with the right location. There are about a dozen different communities, cities, and unincorporated areas along this Gulf of Mexico stretch of sugary white sandy beaches. Here's a breakdown of some of the more common areas and the type of condominium buildings you'll find.
Clearwater Beach is probably one of the more common areas for condominiums. With beachfront condominiums, units on the Intracoastal waterway, and prices anywhere from $200,000 to over $2 million, there's a spot for everyone. Clearwater Beach has complexes such as Mandalay Beach Club, Sandpearl Residences, Regatta Beach Club, the Château on the White Sands, Pura Vida, Belle Harbor, Brightwater Point, Clearwater Point, Continental Towers, Harborview Grande, 440 West, and the JW Marriott Residences. Each has its own unique amenities, services, and location with easy access to the beach, boating, marina access, restaurants, shops and more. Most condominium complexes will feature their own swimming pool and fitness center however, some buildings with fewer amenities may offer lower condo association fees. Check out all of the Clearwater beach condominiums here.
The beautiful Indian Shores sits between North Redington Beach and Indian Rocks Beach and features multiple condominium complexes and buildings all along this stretch of sand between the Intracoastal waterway and the ocean. You'll find condominium complexes such as Beach Cottage, Beach Palms, Barefoot Beach Resort, Bay Mariner, Bay Shores Yacht & Tennis Club, Indian Rock South Shore, Onella, Sand Castle, Tuscany by the Sea, and Waterside Indian Shores. Nearly 90% of residents in Indian Shores own their own homes and many of those happened to be condominiums. There's a medium home value of about $400,000 with plenty of places to eat, relax, and play. Check out all of the Indian Shores condominiums for sale here.
Nestled just north of Indian Shores, the Indian Rocks Beach area has a few condominium buildings located around Independence Square and Hidden Harbour. Here you'll find properties such as Bella Capri, Beachside Villas, Chez Soleil, da Vinci, Driftwood Sands, Harbourside at Marker 33, Oceanside, Hawksbill Moon Retreat, Oceanway, Reef Club, Reflections on the Gulf, Sunraker West, The Cove, and Windrush Cove. Each condominium complex features its own association with amenities and services such as oceanfront swimming pools and fitness centers. Dues are typically between $200 and $800 per month depending on the complex, size of the unit and amenities. Check out more Indian Rocks Beach condominiums here.
This beautiful stretch of Florida beaches located around Jack's Boat Basin, Archibald Beach Park and Crystal Island. You'll find a variety of high and luxury condominium complexes with stunning views and amenities. You'll find condominiums at the Skyline, the Harbor Condos at Town Center, See Breeze, Seaview, Mitchell's Beach, Madeira Norte, Madeira Shores, Madeira Delmar, the Shores of Madeira, Boca Vista, Beach Place, Sandy Shores, Ocean Sands and Princess Condo. Close to shops, restaurants, and amenities, Madeira Beach makes a beautiful place to call home. Browse all the condominiums for sale in Madeira Beach here.
This unique section of Pinellas County is located just west of St. Petersburg, south of Madeira Beach, and North of Belle Vista. Most units are waterfront or beachfront condominiums on the Intracoastal waterway just south of John's Pass giving boaters access to the Gulf of Mexico. There are many different condominium complexes on treasure Island including the Mansions by the Sea, Lands End, Key Capri, and Treasure Sands, all offering unique amenities and location. Treasure Island features a waterfront boardwalk and dog Beach and is a barrier island on the western coast of Pinellas County. Read on to learn more about Treasure Island condos for sale.
This small little town of Redington Beach, North Redington Beach, and Redington Shores all feature unique designs, styles, and condominium buildings between Madeira Beach and Indian Rocks Beach. While technically all the same area, they are three separate little towns and feature several condominium complexes such as La Contessa, La Vistana, Redington Towers, Shore Mariner, and Tides Beach Club. Condo prices start at $200,000 up to over $1 million with a variety of perks and services for each. Check out more of the Condos for sale on Redington Beach here.
Nestled next to the biggest beachfront park in Pinellas County, Sand Key is close to Pier 60, and sits just 3 miles south of Clearwater Beach. It offers condominium buildings such as Bella Rosa, Cabana Club, Crescent Beach, Dan's Island, Finale, Landmark Towers, Lighthouse Tower, Meridian, Utopia, Bayside Gardens, Isle Sand Key, Marina Del Rey, South Bay, and several others. It offers more condominium buildings than just about any beachfront area. Check out all of the condos for sale in Sand Key Here
Although it sounds like it, St. Pete Beach is its own city. It's located west of St. Petersburg along the Gulf of Mexico and features a variety of condominium complexes from Tierra Verde North to South Pasadena. Condominium buildings include Beau Monde, Boca Sands, Coral Point, EnvoyPoint, Intrepid, Mirabella townhomes, San Seair, Seamark, Silver Sands, Jacaranda Beach, Sylvette, and Weatherly. You'll find condominium buildings on the Intracoastal waterway and Boca Ciega Bay. Water enthusiasts delight with the boating options, fishing, and access to two bodies of water. Click here for more information on St. Pete Beach condominiums.
This is just a short snapshot of Florida beach condominiums. Browse all the available listings above and when you're ready, contact my office at any time to schedule a showing, for more information, or a virtual tour of any condominiums for sale in any one of these cities and surrounding beachfront communities along Florida's pristine gulf coast of Mexico.
Contact a Florida Beach Condo Agent