Pasco County New Construction
Search all New Construction Homes in Pasco County Florida
Considering buying new construction? Pascoe County Florida is booming with new construction homes, properties and lots. On average, it cost about $240,000-$400,000 to build a typical new construction home in Pascoe County. Cost of building, materials, construction labor, and the lot all come into play when determining the price and final bill of a new construction property. The good thing is that there are literally thousands of new construction homes either at the very beginning of the process or at the end so you truly have your choice of how involved you want to be on your new construction property. Read on a little bit below the listings to learn more and understand the pros and cons to buying new construction.
Start your online search here for all new construction homes and condos in the Pasco County area of Southwest Florida. For expert real estate care building or buying a new construction home contact John Kinnunen today. With decades of Florida real estate experience, John can help guide you through the new construction process and help you make an informed decision on all the nuances of a new construction property.
At any time, feel free to sign up for a free account to be notified when new construction in Pasco County hits the market or browse all the other featured counties below to find the perfect new construction home for your needs and budget.
Pasco County New Construction
September 22, 2023
Buying New Construction in Pasco County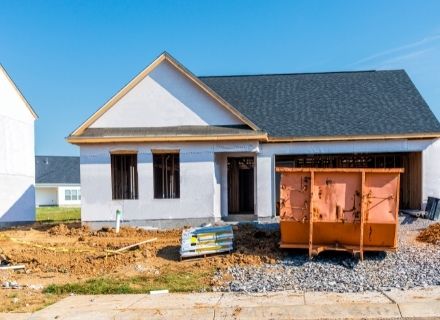 Are you ready to buy a new house? If you are ready, willing, and able to build your forever home, there's no better time to do that than right now. It's rare in construction that costs will decrease and right now, they are going up. Interest rates may be low but the cost of building, materials, and labor is always going up so if you want to build your dream home, there's no better time than the present.
It's important to understand what you are getting into when buying new construction. There are a lot of different phases at which you can buy; you can buy from the ground up buying unimproved land and starting from scratch with utilities, water, electricity and plumbing or you can buy on the completely other end of that spectrum finishing a few details, carpet colors and paint. Both are new construction but one requires much more involvement on your end. The key is knowing where you want to buy and how much involvement you want to put into the project.
Buying land.
If you're starting from scratch you'll need some land. There are a lot of lots to choose from and just like you can get in on the ground floor of building, you can get in on the ground floor of buying land as well. There are a lot of lots that are already improved, meaning they have utilities installed for the house that will be on the lot. This can take a lot of cost out of the finished price tag. If you are buying on the lot that is unimproved you may be spending thousands getting Internet, electricity, gas, sewer, and water to the property. Plus, if you're buying a property not in a development, you may have easement issues. Do you need to travel over other people's properties to get to your own? This can open a big can of worms so finding a lot that's ready to go is half the battle, but it may not be exactly what you want.
How much time do you have to invest in the project?
Coming in at the final stage means you can pick the colors, finishes, flooring choices, back splashes and appliances. This may be the fun part. All the little details of picking out baseboards, finalizing a layout, the type of siding, roof, and plumbing may seem extremely daunting but it also depends on how involved you want to beat. Do you want to make a decision on absolutely every detail of the home or do you want someone else to deal with all of those minor details and you come in with the cosmetics? This is important because starting from the ground up means a lot more time invested on your part even though you won't actually be doing the building.
A builder.
Speaking of building, you will need a builder. A lot of developments that have improved lots already have a set of builders that may be approved for that development. However, you might be limited into what that builder can provide. If you don't like their layouts, their style of homes, or their requirements, you may be forced to buy in a different development. Make sure you understand what is required for a specific development so that you get exactly what you want. If you building from the ground up, you'll need to find a builder and construction company that understands exactly what you want, knows how to get you what you want, and can build within your price range. Again, starting from this point means a lot more investment on your end.
Building a home definitely takes more time so it's important to understand how much investment you are really going to put in when building from the ground up. How involved do you want to be? There are a lot of new construction properties on any point in the spectrum. Start by browsing all of the new construction homes in Pasco County Florida above or for a more detailed and specific list (which, sifting through thousands might seem daunting) simply contact my office below. I would love to offer a more personalized list of homes along the building spectrum that that your search criteria and price.
Contact Your Florida New Construction Expert Today