Clearwater Local Information, Stats, Weather, Climate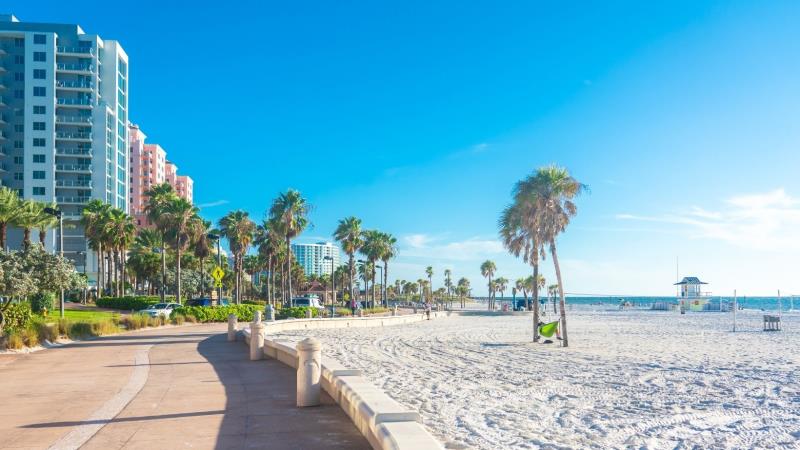 Learn more about Clearwater Florida

Clearwater's Location
Clearwater Florida is located in Pinellas County and is the county seat. It's nestled on the Pinellas Peninsula between Tampa Bay and the Gulf of Mexico. It's home to about 115,000 residents and is about 90 minutes from Orlando. Clearwater is the highest coastal bluff on the west coast of Florida and it's close to St. Petersburg, Tampa, and Sarasota. It's considered part of the Tampa Bay Metropolitan area.
Clearwater's Weather
Clearwater's climate is subtropical and is mostly warm to hot year-round. There may be a few nights of frost but it's rare. Annual rainfall is 51 inches and the rainy season is June through September. It's not uncommon to have afternoon thunderstorms and a good shower, leveling off to a warm and sunny afternoon. The dry season is October through May when there is little change in the weather. The average temperatures are highs in the 70s and 80s for the summer and lows in the 50s in the winter and 70s in the summer. Record highs are typically in the upper 90s. Being right on the water keeps things cooled off most of the time and of course, the beach is always the best option for keeping cool.
All Clearwater Real Estate
December 9, 2023
We couldn't be happier going through this process with John and Kerri by our side! This is the first home we're selling and we knew nothing before these two came into our life! Extremely professional, outgoing, friendly and knowledgeable, not to mention patient (due to all my crazy questions). We couldn't do this with out them! Thank you guys for everything and making this whole process seamless and easy!!
Stephanie and Alex Roddenberg
John is so thorough and really makes you feel like part of the family! He really shows you that he isn't just there to sell you a house he is there to help you make the best decision for your family. You can tell he is very passionate and wants to do the best he can for you. 10/10 would recommend
Rosebud2014
We can't speak highly enough of our experience with John Kinnunen. We were first-time homebuyers with very little knowledge about how to find the right place. We met with a couple of realtors before John, but we knew instantly that he was the one for us. He is honest and hands-on (he even crawled into creepy attics to check insulation for us!), and he really helped to take the pressure off of us. We never felt forced to make an offer and when we finally found the "one" and ended up in a bidding war, John walked us through every step of the negotiations, even suggesting that we write a letter to the sellers to explain why we thought they should choose us. It was an unconventional approach but it worked and we thank John for that every day! We have several friends looking for homes and thinking about selling, and we always recommend John to them!
M26Hall
Looking for More Information on Clearwater? Reach Out Below! I Know All There is About Clearwater!