Clearwater Beach Beachfront Condos for Sale
Clearwater and Clearwater Beach are technically two different cities or towns but fairly close. While most beachfront condos are on Clearwater Beach, there are a few beachfront condos in Clearwater itself. Clear as mud, right? But maybe you're looking for a beachfront condo and you don't care if it's in Clearwater Beach or the town of Clearwater. Well, this is the right page. Here you will find all Clearwater Beachfront Condos both in Clearwater and Clearwater Beach. Read on below the listings for more information about beachfront condos for sale.
Welcome to beautiful Clearwater Beachfront Florida. Here you will find all condominiums and complexes that have units for sale on Clearwater Beach.
And, if you haven't already, be sure to register for a free account so that you can receive email alerts whenever new Clearwater Beachfront Condos listings come on the market.
Clearwater Beachfront Condos
September 22, 2023
Pinellas Beach Area Condos
More About Clearwater Beachfront Condos
There are plenty of beachfront condominiums in Clearwater and Clearwater Beach. But Clearwater is not the only place you'll find beachfront condominiums. Places like Sand Key, Indian Rocks Beach, Indian Shores, Redington Beach, Madeira Beach, Treasure Island, and St. Pete Beach all feature fantastic beachfront condominiums. Here are the beachfront condominiums in Clearwater and Clearwater Beach.
Clearwater Beach
This beautiful beachfront condominium in the heart of Clearwater Beach offers views of Pier 60 with a wide variety of styles and designs in both two, three, and four-bedroom floor plans from 1500 ft.² to over 3000 ft.². Mandalay Beach Club offers a variety of amenities such as a heated beachfront swimming pool, state-of-the-art fitness center, relaxing sauna, barbecue grills, conference rooms, game rooms, sauna, and more. Pets are allowed up to two and up to 40 pounds each. Mandalay Beach Club was built in 2002 and requires monthly homeowner association fees between $700 to over $1000 per month based on the unit. This is a two-building complex with 16 floors each and a total of 156 units.
Built in 1962, the Regatta Beach Club features a 12-floor building with 366 units with more vacation style designs from about 475 ft.² up to 1100 ft.². There are a variety of amenities available at the Regatta Beach Club including a hot tub, Olympic size swimming pool, game rooms, state-of-the-art fitness center, recreational room, catering kitchen, theater room, gated entrance, and 24-hour security. Homeowner association dues are between $400 and $900 per month and residents are allowed up to two pets at 50 pounds each.
This 15 floor, 118 unit complex was built in 2007 and features two and three-bedroom units from 1400 ft.² to over 2600 ft.². Homeowner association dues are up to $1000 per month and residents have access to a heated swimming pool and spa, tennis courts, fitness center, and are allowed up to two pets at 80 pounds total. This is also a great location for vacation rentals or second-home options.
Built in 2005 and the second building built in 2008, the Château and Chalets features 29 units total on seven floors located at the northern part of Clearwater Beach. This is more of a boutique community with higher association dues of up to $1900 per month. The Association also has a fairly strict approval process. Residents have water access and beach views, and a variety of amenities such as a community swimming pool, insurance, maintenance grounds, recreational facilities, fitness center, secure lobby, spa and hot tub, additional storage, and most utilities. Pets are also allowed with a weight restriction of up to $100 max total.
This is one of the beach's newest condominium complexes recently opened in the last couple of years. It features eight floors and just 22 units. It offers unobstructed views of the Gulf of Mexico and spacious floor plans from 2000 ft.² to about 3000 ft.². Homeowner association fees are roughly $1400 per month and include amenities such as a swimming pool, fitness center and clubroom. Pura Vida is just minutes from Pier 60, with fantastic dining, shopping, and entertainment.
Clearwater Beachfront Condos
Prelude 80
This west-facing condominium is located in Clearwater with beautiful views of Clearwater Beach yet offers its own beachfront amenities as well. Built in 1975, the Prelude requires monthly homeowners fees of $680 respectively, which covers common area maintenance, several utilities, a swimming pool, and a fitness center. It probably has the strictest pet policy with only tropical and saltwater fish kept in aquariums of not more than 50 gallons and one cat or small caged bird. Dogs are prohibited.
Harbor Oaks
Built in 1972, this Clearwater condominium requires monthly homeowners dues of approximately $460 per month, covering common area maintenance, swimming pool, and a couple of utilities. It also offers fishing opportunities and a fitness room. You'll find two-bedroom and two-bath condominiums up to about 1400 ft.².
Camelot Oaks
Built in 1986, this spacious condominium offers private waterfront and beachfront living with lower homeowners dues of around $600 per month. These dues cover all common area maintenance, several utilities, swimming pool, and pets are allowed, up to three with no weight restriction. However, there is a breed restriction so be sure to check with the Association.
Nearby
Life on Clearwater Beach and close by to Clearwater offers some of the most convenient spots to enjoy all that the area has to offer. Residents are just a few blocks or less than a mile from Pier 60, with fantastic shopping and dining, and the Clearwater Marina is also located within about a mile from most condominiums on the beach in Clearwater and Clearwater Beach.
Named for State Road 60, which ends in Clearwater Beach, Pier 60 is a central spot for beachgoers with playgrounds, souvenir shops, and a long fishing pier, one of the more iconic landmarks to Clearwater and Clearwater Beach.
"This is a great place to snag a bargain on some trinkets to bring back as a remembrance of your Clearwater Beach vacation."

"Fishermen find just the right spot and beachgoers love to watch pelicans, and the sunsets in the evening of the perfect place to relax and end your day."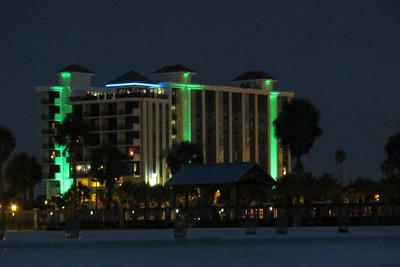 The pier is a 1080 foot fishing pier and recreational park with bay towels, telescopes, and six covered pavilions. It offers a complete line of fishing tackle at the bait house, souvenirs, snacks, and rental equipment. Fishermen look for Spanish Mackerel, spotted in silver trout, redfish, tarpon, sheepshead, flounder, and many others depending on the season. Not only is it a popular spot for anglers, but it's a great place for families of all ages including "Sunsets at Pier 60", a Clearwater tradition offering arts and crafts every night.
Whiles, there is not necessarily a restaurant on Pier 60 other than a snack shack, there are plenty of spots to grab a great meal close by, especially at the roundabout.
Crabby's Dockside is a laid-back environment perfect for delicious seafood, fish and chips, and fantastic cocktails. The Marina Cantina offers dockside Mexican food with a rooftop deck. Beach Shanty Café offers a casual design for breakfast and brunch and Frenchy's Saltwater Café is a perfect pitstop for seafood and fantastic cocktails.
For more information on Clearwater Beachfront condos, contact me below or browse more condos here.
Contact a Clearwater Beach Condo Agent