Pier 60 Clearwater - Info on Pier 60 Clearwater Beach Florida
Posted by John Kinnunen on Friday, March 12, 2021 at 7:00 AM
By John Kinnunen / March 12, 2021
Comment
Pier 60 Clearwater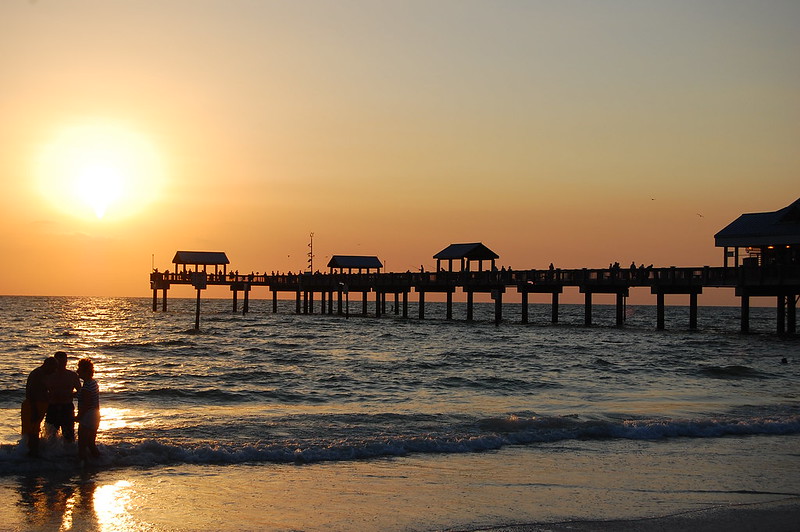 Pier 60 in Clearwater Beach is a one-of-a-kind, world-renowned, beautiful fishing piers just off the coast of Clearwater. With access to fishing activities, fine dining options, shopping, and entertainment, this multipurpose facility staffed by employees skilled in excellent customer service offer fantastic activities and events year-round.
Pier 60 is named for State Road 60, which terminates in Clearwater Beach. This central location is perfect for beachgoers with playground equipment, a souvenir shop, and the long 1,080-foot fishing pier extending west from Highway 60 out into the Gulf of Mexico.
Fishing
Let's start with the fishing. Getting back to the rustic ambiance and appeal to the Gulf of Mexico is fantastic fishing. Residents can get yearly or monthly passes, daily fishing for less than $10, and you can even rent a rod and all the equipment needed right there on the pier. It is one of the best-equipped and most attractive fishing piers in Florida. The on-site fishing facility features daily weather conditions, shaded covered pavilions, security systems, rental equipment, a bait and tackle shop, snack bar, annual fishing tournaments, telescopes for beach viewing, sightseeing, and on-site restrooms. Plus, you don't need a fishing license for the pier as it carries a blanket fishing license for everyone. And, whatever you catch is all yours. Check out the live Pier 60 Beach Cam to see what's happening right now!
Dining
There are tons of dining options all around the pier such as Crabby's Dockside, Salt Cracker Fish Camp, Marina Cantina, Surfside Taphouse, Starbucks, Tommy's Tiki Bar, Jimmy's Crows, Ocean Hai, and Jamminz. Tommy's Tiki Bar is a great outdoor beach bar located at the Hilton. All the tables and seats are right on the sand and you can enjoy one of your favorite drinks, delicious guacamole and chips or Caribbean fish tacos.
Sunsets at Pier 60
Ever heard of a 365-day festival? That's what happens every day at Pier 60 on Clearwater Beach. This year-round Festival operates two hours before until two hours after sunset weather permitting every day. The nightly sunset celebrates artisans, street performers, and of course, the famous sunset. Things changed daily so you never know what you're going to see or experience at the Sunset Festival.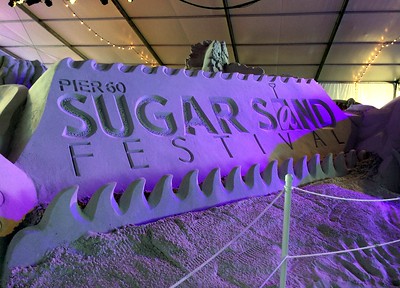 This unique festival is one of the best sand sculpture festivals in the state of Florida. World-renowned sand artists create some of the most amazing and cool same creations you'll ever see. Grab a ticket and peruse the 21,000 square-foot structure featuring artists creating amazing sculptures and works of art. There's live music, fireworks, kids activity zones, sand sculpting classes, and of course the amazing sculptures by professionals.
The Beach Walk
Located just south of the pier is the Beach Walk. Along this walk adjacent to the shoreline there are drinking fountains, outdoor showers to rinse off the sand, bicycle racks, and other spots for fishing. There's even a beach reading nourishment effort to restore several dunes and enhance the area's natural beauty along the wide curving sidewalk. The Municipal Marina is also located close by with deep-sea fishing and boating activities. It also features a compact pedestrian zone with high-end hotels and condominiums known for their nightlife.
Shopping
There are several shopping options about a block setback from the pier. From ladies apparel and boutiques to Beach Bazaar, Baubles & Bags, The Wings Beachwear, the Marina Gift Souvenir Shop, Surf Style, and Maui Surf Shop about two blocks north of Pier 60, there's a design and a surf style to fit everyone. You'll also find a Walgreens, Frenchy's Seafood Company market, several banks, Clearwater Beach Paddleboard and Rental and Celebrity of Clearwater souvenir store. A Publix Market is just a few blocks east on Island Estates.
Looking to Live Near the Pier?
Check out the residential properties and condominiums all within about a one or two-block radius from the entrance to the pier. There are always new listings coming on the market so for more information about Pier 60 Clearwater, homes and real estate close by, or any Clearwater Beach condos or Clearwater Beach homes for sale, browse all available properties on my website or contact my office at any time.