8 Things to Know about Living in Tampa
Posted by John Kinnunen on Saturday, February 19, 2022 at 8:18 AM
By John Kinnunen / February 19, 2022
Comment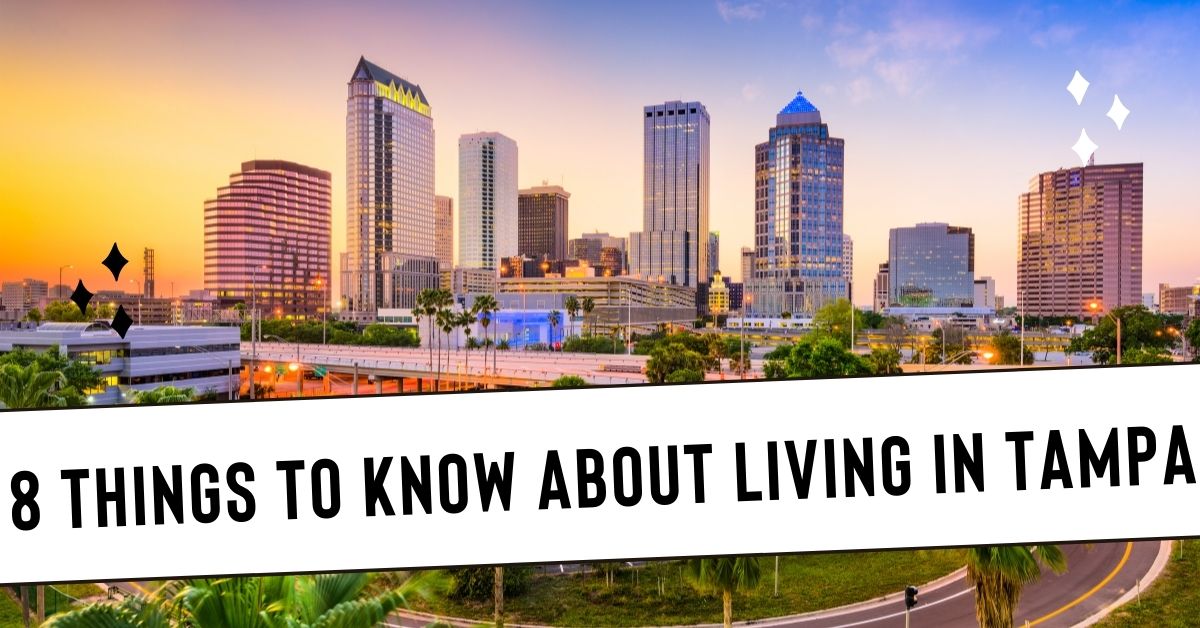 Located on Tampa Bay on Florida's west coast, Tampa is one of the state's major cities, known for its professional sports, vibrant nightlife, and beautiful beaches.
If you are considering a move to Florida, here are 8 things you need to know about living in Tampa.
1. The world's longest waterfront sidewalk is located in Tampa
Bayshore Boulevard is the world's longest waterfront sidewalk, spanning nearly 5 miles along Tampa Bay. With views of the sparkling water and the downtown Tampa skyline, Bayshore Boulevard just might become your favorite place to take a stroll or get in a good run.
2. You can expect mild winters and hot, humid summers
On average, people living in Tampa experience about 250 days of sunshine each year. Temperatures in Tampa tend to range from 50 to 90. That means Tampa residents can easily enjoy time outside just about any day of the year.
If you are getting sick of shoveling snow or gray, gloomy days, Tampa will be a refreshing change of scenery for you.
3. Tampa is one of the most affordable major cities in the nation
The cost of living in Tampa is 5% lower than the national average, which is an impressive figure considering the size and economy of the city.
4. Tampa is known for its healthcare facilities
Tampa General Hospital is one of the best in the nation, consistently winning awards for is innovative care and Level 1 Trauma Center.
Residents of Tampa also enjoy access to a long list of state-of-the-art medical facilities, including minute clinics, urgent cares, hospitals, and cosmetic medical practices.
5. You'll find some of the best education, preschool through post-grad, in Tampa
Living in Tampa means having access to an excellent education, not matter the age of the students in your household. Plant High School in Tampa has received national recognition as one of the best in the country.
Higher education opportunities in Tampa are also excellent, with 25 colleges and universities to choose from, including:
6. There's always something to do in Tampa
Whatever your interests, there is always something to do when you're living in Tampa. With a diverse array of restaurants, museums, and nightlife, you never have to be bored.
For delicious coffee, stop by any of the 3 locally-owned Foundation Coffee Co. locations. A meal at the elegant Ocean Prime steakhouse will make for a memorable evening.
You might be living in Tampa for years before you have a chance to visit all of the engaging and inspiring museums in town.
7. Crime rates in Tampa have gone down for 12 consecutive years
Not only is Tampa exceedingly affordable when compared to other urban markets, it also has a shrinking crime rate. For 12 consecutive years, Tampa law enforcement has reported lower crime rates than the previous year, making the city an even more appealing location.
8. Tampa neighborhoods represent a diversity of styles and budgets
Tampa is a diverse city, filled with a range of ages, ethnicities, and worldviews. Living in Tampa is exciting and engaging, with different neighborhoods showcasing the diversity of the people here.
For a historic and trendy neighborhood, you might love Ybor City. There are many homes in the community that are on the National Register of Historic Places.
In the Channel District, you will find more high rises and converted lofts, with a modern urban atmosphere. Homes in the Channel District are close to nightlife, shopping, and dining.
Hyde Park is a family-friendly neighborhood in Tampa, with picturesque brick sidewalks, mature trees, and many community parks.
For a master-planned suburban atmosphere, you might like Carrollwood. There are many neighborhoods in the community, each managed by its own HOA.
The largest suburb in Tampa is Riverview, with beautiful single-family homes in quiet and diverse neighborhoods.
For more information about moving to Tampa, contact us today!