Buy with John Kinnunen - Give Back to the Community
Doesn't matter if you sell a condo, buy a condo, sell a home or buy a home in Clearwater Beach, Sand Key, St. Pete Beach, Treasure Island, Maderia Beach, Indian Shores, Indian Rocks Beach, Siesta Key, Longboat Key, Tampa, or Anna Maria Island, basically, they help people buy and sell condos and homes along the Gulf Coast of Florida, a portion of the commission check will be donated to a local Clearwater charity or national endowment. Giving back and helping others has always been part of our mission here at the Kinnunen Group brokered by eXp Realty. This year, we have decided that for every closing we have in Florida or in Michigan, we plan on donating to a local charity.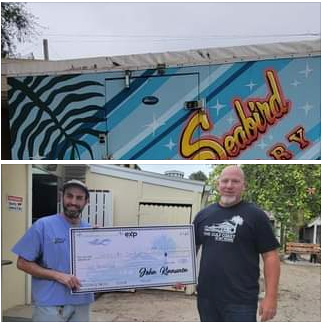 Helping others is something we have always loved to do. Here are a few examples of what charities we have given to. Many people forget about the local charities that help the local Florida wildlife so that is where we give a majority of our donations too.
There is a local bird rescue located in Indian Shores Florida that I walk by daily and visit frequently that we decided to donate to this time. The Seaside Seabird Sanctuary helps the Florida wildlife and we appreciate you! This sanctuary is a wildlife rehabilitation facility & tourist attraction dedicated to the rescue & treatment of sick & injured wild birds!
Whenever you buy or sell a home with us, just know that some of our commission is going back to the community. Read more of the story on our Facebook page
"Amazing! That's such an awesome idea!"

"OMG!! We love to this bird sanctuary every year! Great Idea, John"

"You guys are pretty awesome!"
This was the Clearwater Marine Aquarium. After this closing, we donated to the aquarium as it does so much for local wildlife in the area. They also have the nicest staff and volunteers. If you have ever been to the Florida Aquarium in either Tampa Florida or Clearwater you have seen how much they do for the local Clearwater Wildlife. When an animal is hurt this is one fo the first places that are called and a majority of their staff is volunteer-based. If you want to volunteer to be a turtle nest volunteer watch their Facebook page and their website for updates on when they need volunteers. It is usually around turtle nesting season when you will see them request help from the community. You just might see me there helping out.
Follow me on our Facebook page here or our YouTube Channel to learn more and stay on top of our local events, donations and facilities.
Your Gulf Coast Condo and Home Search
December 9, 2023
Want to Learn More or Get in Touch? Contact Me Below!